Stuff from all over
My Holiday diary
Turns out it takes a global pandemic to teach a high-strung Virgo flexibility!
We were meant to host friends on both December 24th and 25th this year, but on the 22nd, my daughter tested positive for Covid
. Bye-bye, holiday cocktail parties and party hosting plans! Pre-Covid, I would have really stewed about this.
I was looking forward to hosting! I WANTED THIS TO HAPPEN!
But after so many years of finding workarounds to stomped on plans, the timing of this news was nearly comical. (As it turned out, our guests all got the flu and wouldn't have been able to come over anyway.)
But something lovely came out of our changed plans. With our focus changed from hosting and entertaining other people, we turned to the hosting and entertaining of ourselves.
With a stocked fridge, a warm fire, and power we didn't lose (thank you, generator and to my husband who nursed our wood stove like a newborn through the night), we stay-cated in style. It was a slothy, sleepy, Cabin fever cluster of days that ended up feeling cozy and relaxing. I threw myself into the preparation of slightly elaborate meals to make sure we all had at least one special repast to look forward to each day. Those efforts looked like this (yes, I made a menu. Virgos, unite.):
Thursday, we had kale chips, pulled pork and cheddar cheese polenta. Nobody wanted the Brandy Alexanders I had planned. We watched "The Proposal."
Friday, we did breaded chicken with an anchovy and caper sauce, deviled eggs and asparagus. We made a shit-ton of sugar cookies. We watched "Notting Hill."
On Christmas Eve, we had oysters and champagne and potato chips for appetizers. We had picanha steak (that my father sent me for Christmas in the mail; thanks Dad!) with a homemade chimichuri sauce and smashed potatoes. We took a break from the rom com train and played board games that night.
For Christmas lunch, I made a smoked haddock fish chowder and we ate more chips. I couldn't actually find smoked haddock so I made the stew with cod. I thought I'd replicate the deep smoky taste with sherry, but in hindsight, I should have added bacon. That night, my French husband requested that we watch "Ace Ventura" because he'd never seen it. This was a mistake. My husband fled the premises after about 15 minutes, I fell asleep, and thus our daughter watched the entirety of this abomination of a feature film. Parenting fail.
---
I read a lot during our staycation. I'd never heard of the 2021 release "Fuzz: When Nature Breaks the Law" by Mary Roach, and I'm embarrassed to admit that I'd never heard of Mary Roach ("America's funniest science writer") either. I absolutely loved this book, which explores the science and foibles of human and wildlife conflicts all around the world, with an uplifting message: the rodents will overcome.
I paired FUZZ with my continued deep dive into the late philosopher and animal trainer Vicki Hearne's "Adam's Task: Calling Animals by Name," which asks animal owners to try and understand the beauty that their respective pets are trying to communicate instead of looking at every animal in training as being there for a problem that needs eradication.
Both these books prepared me nicely for my long overdue viewing of Jordan Peele's film, NOPE.
I'm still wading through the many things I think this film is about, but it's certainly about underestimating the docility of domesticated animals. Have any of you seen it?
---
Animals have been much on my brain because it's the one year anniversary of me rescuing an ex-racehorse named Abuelita that I pulled off a bad dude's farm last December. Back then, I had a Mailchimp instead of a Substack, and many of you helped me raise money to feed Abuelita and the other unfortunate animals who needed help. One year into this adventure, what can I say? She looks like a million bucks, she's got her weight and muscle back and her sassy chestnut thoroughbred antics, too. As for me? I'm looking for a new therapist. Turns out it is exceptionally hard to get a 27 year old horse who was abused and neglected by a string of shitty owners to trust humans again. I saw a funny quote on Instagram the other day that sums up my current mind state vis-à-vis my fiery horse: "We do this not because it is easy, but because we thought it would be easy."
Ha ha. I didn't think rescuing a thoroughbred would be easy, but I thought I could docile this mare with love. Ha ha ha again! If you haven't read about my origin story with Abuelita and you would like to, you can do so
here
.
---
We have a winner!
This fall, my nonprofit The Cabins ran an open call for applications for a DIY retreat in the Catskills: a cozy 4-bedroom cabin was up for grabs for up to four people for ten days. The applications were fantastic (and so inspiring)- and they came from all over: filmmakers, writers, bluegrass bands, ghostwriters! It was a tough decision, but we are delighted to announce the winning cohort for our February Catskills residency: Rachel E. Gross, Byrd Pinkerton and Angela Chen.
These three creative forces are exploring the ways that medicine and technology rewrite notions of the body, the mind, and the world around us. While in the Catskills, Rachel (who reports on gender bias and marginalized voices in medicine for outlets like The New York Times) will be researching the patient-doctor relationship for a feature on intersex care. Angela (senior editor at Wired Magazine and author of the acclaimed "Ace: What Asexuality Reveals About Desire, Society, and the Meaning of Sex") will be restructuring a sci-fi novel on sexuality and the self, and Byrd (a senior producer and reporter for Vox's science podcast "Unexplainable") will be working on a series of sci-fi horror short films.
If you don't already, please follow @thecabinsretreat on Instagram and sign up for our newsletter on The Cabins website— we'll have exciting news about a new retreat opportunity in 2023.
I've been doing a lot of podcasts this fall, and two of my favorite conversations just came out. In "War Stories from the Womb," I talked with host Paulette Kamenecka about everything and anything having to do with not wanting to be pregnant, being pregnant, losing a pregnancy and all of the emotions and physical experiences in between. "The Year of the Horses" is very much about the pressure on women to reproduce and "perfect mother" offspring, and this is the first podcast I've done that invited me to dig into all that.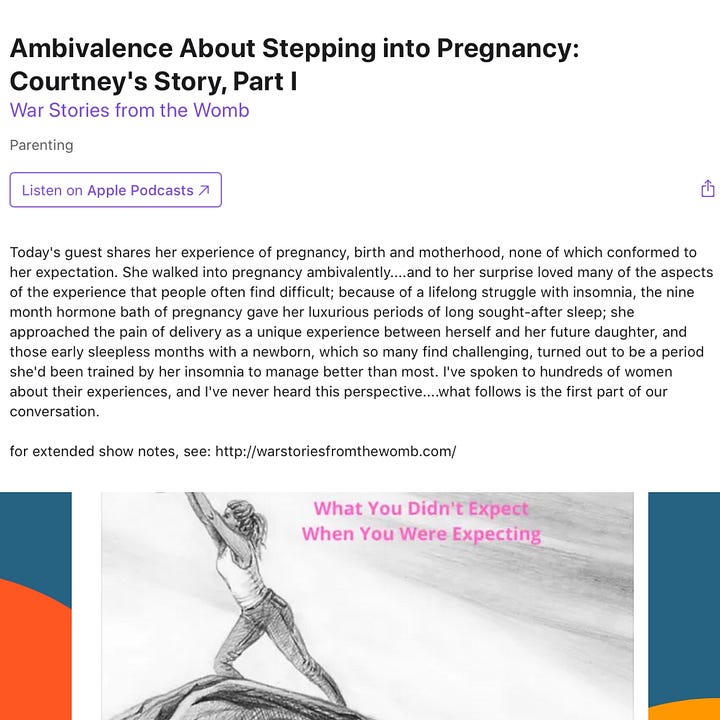 Horse Illustrated is a venerable magazine that started in 1977 and its podcast arm is called "Barn Banter." I was delighted to be on the show with Susan Friedland of the popular "Saddle Seeks Horse" blog. You can listen to my thoughts on riding in an aging body and owning a chestnut mare here.
Other than that, I'm teaching the winter and spring semester at Drexel University starting next week! I'm teaching an elective on Query Writing. Though I've taught workshops and classes at the university level, this is my first time being attached to an academic institution for a full term.
Also, next week: I'm officially going back to face off with the beast that is my current work-in-progress. I'll be making a New Year's resolution to tame that particular dragon.
What will be yours? Share your resolutions in the comments if you'd like to, or just let us know what you got up to during break.
Thanks for being here!
xo
Courtney
This is the free version of Before and After the Book Deal. I'm glad to have you here! If you'd like to participate in open calls for work that I will comment on, (query letters, book titles, pitch letters, loglines…) please upgrade to paid. Thank you for supporting the work I do to make publishing and professional writing less opaque!
1
We stayed negative and she was just fine, thankfully!
2
I don't have the credit for this quote.